Bajra
Commodity Code -

28
Commodity Name -

Bajra(Pearl Millet/Cumbu)
Commodity Scientific Name -

Pennisetum americanum (L), Pennisetum typhoideum Rich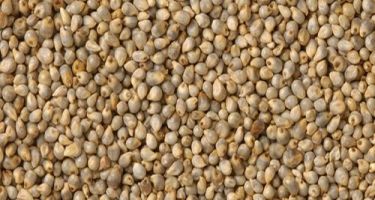 BD-111 D-111R, BD-111 MS-5141A, BD-111 MS-5141B, BD-763 D-763R, BD-763 MS-8141A, BJ-104 J-104R, BJ-104 MS-5141A, BJ-104 MS-5141B, BK-560 K-560-230R, BK-560 MS-5141A, BK-560 MS-5141B, CJ-104 J-104R, CJ-104 MS-5040A, CJ-104 MS-5040B, GHB-732 (MH 1307) A-LINE, GHB-732 (MH 1307) B-LINE, GHB-732 (MH 1307) R-LINE, HHB-197 (MH 1302) A-LINE, HHB-197 (MH 1302) B-LINE, HHB-197 (MH 1302) R-LINE, HHB-60 H-77/833-2R, HHB-60 MS-81A, HHB-60 MS-81B, HHB-67 H-77/833-2R, HHB-67 MS-843A, HHB-67 MS-843B, HHB-68 H-77/833-2R, HHB-68 MS-842A, HHB-68 MS-842B, HHB-94 G-73-107R, HHB-94 MS-89111A, HHB-94 MS-89111B, JBV-3, Kaveri Super Boss (MH 1553), MH-143 ICMP-423R, MH-143 MS-841A, MH-143 MS-841B, MH-169 (Pusa-23) D-23R, MH-169 (Pusa-23) MS-841A, MH-169 (Pusa-23) MS-841B, MH-180 ICMP-501, MH-180 MS-834A, MH-180 MS-834B, MH-182 MS-732A, MH-182 MS-732B, MH-182 PNBMR, MH-320 (RHB) MS-81A, MH-320 (RHB) MS-81B, MH-320 (RHB) RHB-20K86R, MP 406 (CZP 9802) , MS-179 ICP-451R, MS-179 MS-81A, MS-179 MS-81B, Pusa-322 (MH-322) MS-841A, Pusa-322 (MH-322) MS-841B, Pusa-322 (MH-322) PPMI-301-13R, Pusa-444 (MH-444) PPMI-301-13, Pusa-605 MS-841A, Pusa-605 MS-841B, Pusa-605 PPMI-69R, Shardha RHR-BH-138R, Shardha RHR-BH-1A, Shardha RHR-BH-1B, BABAPURI, GHB-32 (MH-29), N-28-15-2, N.207, AHB 1200 FE MH 2072, MAHABEEJ 1003, MAHABEEJ 1005, MH 2072, G-61/21, HHB-9440, MP 171, MPMH-17, MPMH-21, OTHERS, pro Agro 9444, GHB-905 A-LINE, GHB-905 B-LINE, H77/833-2-202, HHB-226(MH 1302) A-line, HHB-226(MH 1302)B-line, HHB-226(MH 1479)B-line, HHB-67 Female 843A, HHB-67 Female 843B, HHB-67 H77/833-2R Line, HHB-67-2, HYBRIDS, ICTP-8203, RH-173, RHB-173 (MH-1446) A-Line, RHB-173 (MH-1446) B-Line, RHB-177(MH-1486)A-line, RHB-177(MH-1486)B-line, 86M84, Balwan 4903, Balwan Gold, JKBH-1100 (MH-1810), KBH-3580, KBH-Fouzi 2360, NBH-5863, Pusa composite 443, Pusa Composite 701, ADISHAKTI - DHLB-8A, ADISHAKTI - DHLB-8B, ADISHAKTI - DHLB-967, AVSARI, KOPARGAON LOCAL, N-28-15-1, JARKHARANA, RSJ, RSK, HYBRID BAJRA NO.1, HYBRID BAJRA NO.2, HYBRID BAJRA NO.3, HYBRID BAJRA NO.4, PUSA MOTI, A-1/3, S-530, T-55, HB-5, VIJAY, VIJAYA, CS-3541, CSV-3 (370), NHB-5, PHB-10, PHB-14, NEW VIJAY, GHB-1399, NHB-3, BALAJI, NAGARJUNA, VISAKHA, BJ-104 (KM-1), BK-560 (KM-2), MBH-110, MSH-104, RAJKO, CJ-104, HS-1 (SYNTHETIC), MAINUPUR, K-2, K-3, BD-111, BJ-104, BK-560, PUSA-763 (BD-763), WCC-75, PSB-8, KBH-1, X-4, MHB-110, PUSA-46, GHB-27, CO.6, GIANT BAJRA, HC-4, ICMS-7703, MBH-118, HHB-45, PHB-47, RCB-2, X-5 (UCH-9), CO-7, MH-179 (ICM-451), MH-180 (ICMH-501), MH-182, SANGAM (RHR-1), PCB-15, GHB-30, HHB-50, HHB-50 H-90/4-5, HHB-50 MS-81A, HHB-50 MS-81B, MBH-130, PUSA-23, RHR-1 (MP-31), HHB-60, ICMH-423, MP-124 (ICTP-8203), MBH-136, PUSA SAFED, HHB-67, HHB-67 (843-22-B), HHB-67 (H-77-833-2-202 R), HHB-67 (MS 843 A-22 A), RAJ BAJRA CHARI-2, VBH-4, EKNATH-301 (MH-333/NBH-9), ICMV-155, MLBH-104 (MH-351), RAJ-171, CO-8, HHB-68 (MH-306), ICMH-356, ICMV-221, MH-322 (PUSA-332), AHB-251 (MH-258, DEOGIR), GUJARAT HYBRID BAJRA-15, GUJRAT HYBRID BAJRA-235, RHRBH-8609 (SHRADDHA), PUSA-444 (MH-444), RHB-58 (MH-320), MLBH-267 (MH-425), ANANTA (APS-1), CZ-1C-923 (MP-258), GHB-316 (MH-670), JKBH-26 (MH-595), MLBH-285 (MH-518), NANDI-30 (MH-515), PUSA BAJRA-266 (MP-266), GHB-183, SABURI (MH-483, RHRBH-8924), RBH-30, X-6 (MH-140), X-7, 7686 (MH-643, XM-631), GK-1004 (MH-662), PAC-903 (ICI-903, MH-552), PROAGRO NO-1 (FMH-3), JBV-2 (GKKV-93191), MLBH-505 (MH-793, MLBH-44), NANDI-32 (MH-773), NANDI-8 (MH-741), PUSA COMPOSITE-334 (MP-334), PUSA-415 (MP-739), PUSA-605 (MH-564), HARYANA COMPOSITE-10, HHB-94, RHB-90 (MH-463), 7688 (MH 795), GICKV-96752 (MP363), NANDI-35 (MH-889), PROAGRO 9443 (MH-846), PROAGRO 9445 (MH 882, PB 112), PUSA COMPOSITE-383 (MP-383), RHB-121 (MH-892), AIMP-92901 (SAMRUDHI-MP-282), COH (Cu) 8, HC-20 (HMP 9102), GHB-526 (MSH-105), GHB-558 (MH-946), HHB-146 (MH-960), GHB-577, HHB-117, GHB-538 (MH-1049), HHB-67 Improved (843 -22-B), HHB-67 Improved (H-77-833-2R), HHB-67 Improved (MS 843 A-22 A), HHB-67 Improved, Parbhani Sampada (PPC-6), CoCu-9, B-2301 (MH 1192) (B 2301), GHB-719 (MH-1236), Nandi-62(MH 1274) (NMH 68), JBV-4 (MP-403), FBC 16, PCB 164, GHB-744 (MH-1272), GHB-757 (MH1328), GHB732 (MH-1307), HHB-197 (MH-1302), Nandi-52 (MH-1078) (NMH-45), PHB-2168, Proagro 9555 (MSH 16) (PB 727), Avika Bajra Chari (AVKS-19), GK 1051 (MH 1385), JKBH-676 (MH-1299), RHB-154 (MH-1340), BAIF Bajra-1, HHB-216 (MH-1421), HHB-223 (MH-1468), Nandi-61(MH-1548), NANDI-64 (MSH-199) (NMH-69), Nandi-65(MH-1549), Napier Grass Culture-21, Napier Grass Culture-4, RHRBH-9808, 86M64(MSH 203), 86M66 (MH1617), HHB-226 (MH 1479), Mandor Bajra COmposite 2 (MBC 2), MH 1540(86M64), MH 1541(86M53), PAC 909 (MH-1435), Pusa Composite-621 (MP-480), RHB-173 (MH-1446), RHB-177 (MH-1486), 86M86 (MH 1684), Bio 448 (MH 1671), Bio 70 (MH 1632), Haveri Super Boss (MH 1553), MH 1553 (Kaveri Super Boss), MP-7792 (MH-1609), MP-7872 (MH-1610), Nandi - 70 (MSH 224) (NMH 73), PKV RAJ BMS-5-23-A, PKV RAJ BMS-5-23-B, PKV RAJ BR-33, Pratap (MH 1642), Shine (VBBH 3040), (MH 1578), ABPC4-3 (MP 848), PKV-Raj (BBH 3) CO 9, 86M89 (MH 1747), GHB- 905 (MH 1655), Nandi-72 (MSH 238) NMH 75), Dhanashakti (ICTP 8203 Fe 10-2), KBH 108 (MH 1737), NBH 5061 (MH 1812), Nutrifeed (PAC - 981), NBH 5767, MPMH-17 A-Line, MPMH-17 B-Line, MPMH-17 R-Line, MH 2082 (PB 1756) PA 9072, MH 2107 (PB 1720), MH 2155 MP7878, HHB-299, RHB-223, BAYER 9450 (PROAGRO 9450), Gujarat Anand Forage Bajra 4 (GAFB 4), MH 2173 RHB 233, MH 2174 RHB 234, MH 2185 (AHB 1269), MH 2224 (PB 1852), MH 2228, MP 552 (ABV 04), Phule Mahashakti (DHBH 1211/MH 2078), TNPsu 177 (ATL 1), HHB 311 MH 2179, TSFB 15-8.
AP I
AP II
AP III
AP IV
AP V
AP VI
Grades
Moisture (*Maximum Limits Of Tolerance (Per Cent By Weight))
Foreign Matter(*Maximum Limits Of Tolerance (Per Cent By Weight))
Other Edible Grains(*Maximum Limits Of Tolerance (Per Cent By Weight))
Damaged Shrivelled Grains(*Maximum Limits Of Tolerance (Per Cent By Weight))
Immature Grains(*Maximum Limits Of Tolerance (Per Cent By Weight))
Weevilled Grains(*Maximum Limits Of Tolerance(Per Cent By Weight))
organic
inorganic
grade I
12
0.1
nil
1
0.5
1.5
1
grade II
12
0.25
0.1
2
1
3
2.5
grade III
14
0.5
0.25
2.5
2
5
4
grade IV
14
0.75
0.25
3
4
8
6
General Characteristics:-
Be the dried mature grains of Pennisetum typhoideum Rich;

Be sweet, hard, clean, wholesome, uniform in size, shape, colour and in sound merchantable condition;

Be free from added colouring matter, moulds, weevils, obnoxious substances, discolouration, poisonous seeds and all other impurities except to the extent indicated in the schedule

Uric acid and aflatoxin shall not exceed 100 miligrams and 30 micrograms per kilogram respectively

Be free from rodent hair and excreta;

Comply with the restrictions in regard to pesticides / insecticides residue (Rule 65), poisonous metals (Rule 57), naturally occurring toxic substances (Rule 57-B) and other provisions prescribed under the Prevention of Food Adulteration Rules, 1955 and as amended from time to time.
Bajra shall be
clean, wholesome, reasonably uniform in size, shape and colour characteristic to the variety

free from obnoxious smell and fungus infestation
Criteria for Range designation
S.no.
Tradable parameters
Range-1
Range-2
Range-3
A
Essential
i
Moisture(% by wt) Max
12.0
14.0
16.0
ii
Admixture (% by wt) Max
1.0
2.0
3.0
iii
Immature & Shriveled grains(% by wt) Max
4.0
6.0
8.0
iv
Foreign matter(% by wt) Max
0.1
0.6
1.0
v
Other edible grains(% by wt) Max
3.0
4.0
6.0
vi
Damaged/Discoloured grains(% by wt) Max
5.0
7.0
10.0
vi
Weevilled Grains (% by count) Max
2.0
4.0
6.0
B
Optional (Industrial/Processors)
i
Uric Acid
Not more than 100mg/kg
ii
Aflatoxin
Not more than 30 microgram/kg
iii
Total of foreign matter, other edible grains and damaged grains
Not more than 10 percent by weight
Sampling
5 % or minimum one container shall be randomly selected for sampling

500g shall be drawn from each selected container and shall be mixed homogenously, called as primary sample

500g shall be drawn from primary sample called as Laboratory sample
Definitions
Foreign matter includes husk, straws, weed seeds, other inedible grains, metallic pieces, sand, gravel, dirt, pebbles, stones, lumps of earth, clay, mud and animal filth etc

Other Edible Grains means any edible grains (including oil seeds) other than the one which is under consideration

Damaged Grains means grains that are sprouted or internally damaged as a result of heat, microbe, moisture or weather and mechanical injured grains in case of whole pulses.

Weevilled grains means grains that are partially or wholly bored by insects injurious to grains but does not include germ eaten grains and egg spotted grains

Admixture means the presence of a variety of the same grain other than the variety in consideration

Immature & Shriveled grains means kernels or pieces of grains that are not fully developed
Optional parameters are voluntary and may be analyzed as per buyer-seller agreement.
Assaying Parameters as per Uniform Specification notified by the Government of India for Kharif Marketing Season - 2020-21
| | | |
| --- | --- | --- |
| S.no. | Refractions | Maximum Limit (%) |
| 1 | Foreign Matter* | 1.0 |
| 2 | Other foodgrains | 3.0 |
| 3 | Damaged Grains | 1.5 |
| 4 | Slightly damaged & discoloured grains | 4.5 |
| 5 | Shrivelled & Immature grains | 4.0 |
| 6 | Weevilled grains | 1.0 |
| 7 | Moisture content | 14.0 |
* Not more than 0.25% by weight shall be mineral matter and not more than 0.10%by weight shall be impurities of animal origin.
** Bajra grains which are dull in appearance having changed the colour due to deteriorative changes are to be considered as decoloured grains and bajra grains having natural lustre and sound in condition, even of different colour due to genetic/varietal characteristic may be treated as sound kernels.
Important Note -: Details of Government notification No. 8-4/2020-S&I dated 29.09..2020 in this regard is as under, which needs to be scrupulously followed. These parameters will be applicable only for the stocks procured under Central pool during Kharif Marketing Season (KMS) 2020-21.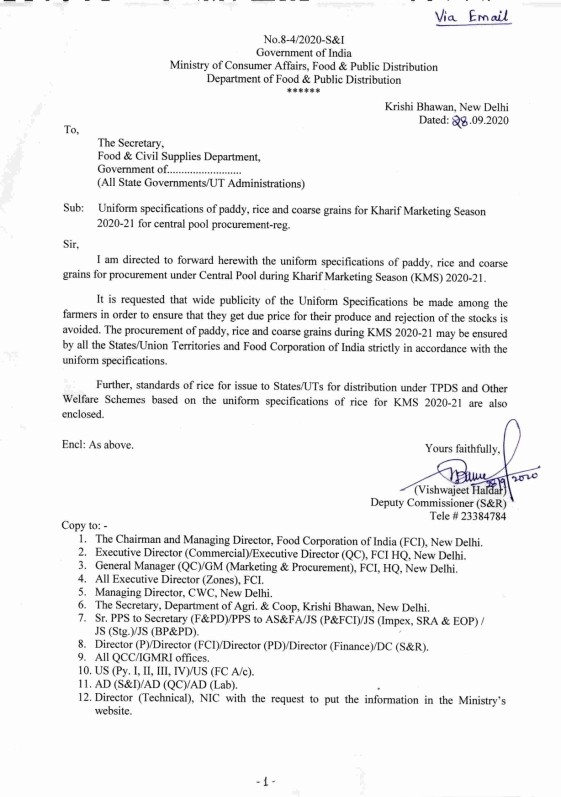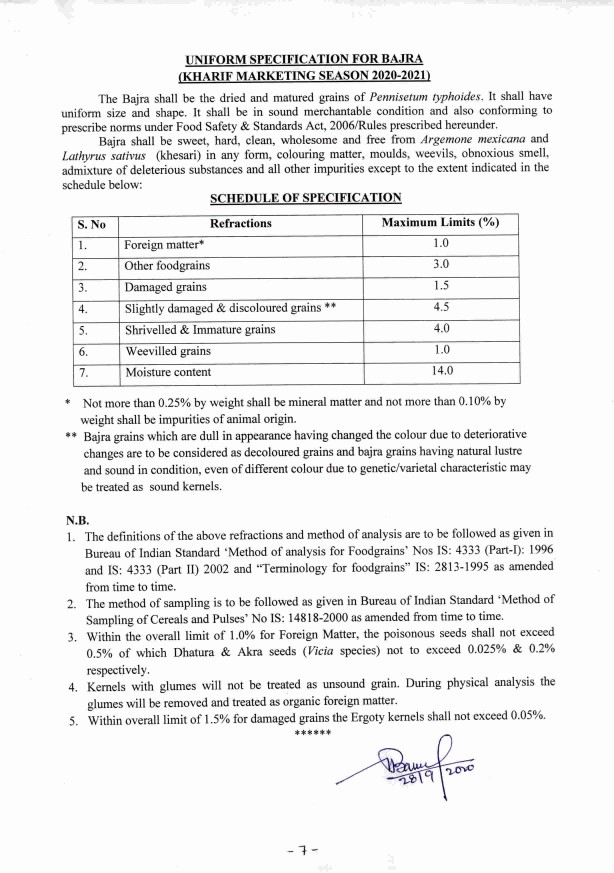 Total Shelf Life - 12 Months
Initial Validity of e NWR - 6 Months
Extension of e NWR Validity - 3 Months
Number of Extensions - 2*3 Months
Weight Tolerance - Loss or gain equivalent to 70% of the decrease or increase in the moisture content during storage