Soyabean
Commodity Code -

13
Commodity Name -

Soyabean
Commodity Scientific Name -

Glycine max (L) Merrill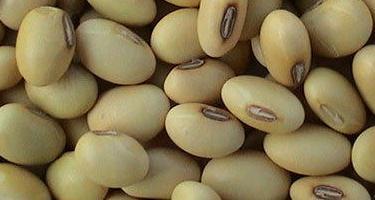 JS 95-60, JS-2029, JS -2069, JS-2034, DSB-21, PHULE KALYANI (DSB-228), RVS-2001-4, KDS-344, PK 1225, PHULE AGRANI, NRC-86 AHILYA, MAUS-162, MACS-1188, JS-335, JS-9305, AHILYA-3 (NRC-7), AHILYA-4 (NRC-37), J-1006, JAWAHAR SOYBEAN 97-52 (JS 97-52), RAJ SOYA -18 (PRAGYA), RAJ VIJAY SOYBEAN 2001-4 (RVS 2001-4).
Grade designations
Special Requirements
Oil content on dry basis percent by weight
Acid value of oil
Moisture content percent by weight
Damaged discoloured insect infested beans percent by weight
Immature shrivelled beans percent by weight
Splits brokens cracked beans percent by weight
Inorganic foreign matter percent by weight
Organic foreign matter percent by weight
Minimum
Maximum
Maximum
Maximum
Maximum
Maximum
Maximum
Maximum
Grade-I
20
3
10
1
2
5
0.5
0.5
Grade-II
18
4
12
2
3
10
0.5
0.5
Grade-III
15
6
12
3
5
20
0.5
1.5
General Characteristics:-
The seeds shall
The mature, dried, clean and wholesome seeds of the plant Glycine max (L) Merrill;

Of uniform size , shape and colour characteristic of the variety;

Free from mould, musty odour or added colouring matter;

Completely free from admixture of any poisonous, toxic, harmful or non-edible seeds like neem, argemone, khesari, castor, mahua, etc; 11

Free from pesticides/insecticide residue, except to the extent permissible under the PFA Rules and shall not contain uric acid exceeding 100 mg/kg and mycotoxin including afflatoxin exceeding 30 micrograms per kilogram.
Soyabean shall be-
Clean, wholesome, reasonably uniform in size, shape and colour characteristic to the variety .
Free from obnoxious smell and fungus infestation.
Criteria for Range designation
S.no.
Tradable parameters
Range-1
Range-2
Range-3
A
Essential
i
Oil Content(% by wt) Min
20.0
18.0
13.0
ii
Moisture(% by wt) Max
7.0
9.0
12.0
iii
Foreign matter(% by wt) Max
1.5
2.0
3.0
iv
Damaged and discoloured seeds (% by wt) Max
3.0
5.0
7.0
v
Other Edible Seeds (% by wt) Max
1.0
3.0
6.0
vi
Weevilled Seeds(% by count) Max
3.0
4.0
5.0
vi
Argemone seeds
B
Optional (Industrial/Processors)
i
Green Seed
Not more than 7.0 percent by weight
ii
Protein
Not less than 34.0 percent by weight
Sampling
5 % or minimum one container shall be randomly selected for sampling.

250g shall be drawn from each selected container and shall be mixed homogenously, called as primary sample.

250g shall be drawn from primary sample called as Laboratory sample.
Definitions
Optional parameters are voluntary and may be analyzed as per buyer-seller agreement.
Foreign matter includes husk, straws, weed seeds, other inedible grains, metallic pieces, sand, gravel, dirt, pebbles, stones, lumps of earth, clay, mud and animal filth etc.

Other Edible seeds means any edible seed other than the one which is under consideration

Damaged seeds are sprouted or internally damaged as a result of heat, microbe, moisture or weather and mechanical injury

Weevilled seeds are partially or wholly bored by insects injurious to seed but do not include germ eaten seeds and egg spotted seeds.
Shelf Life - 12 Months
Initial Validity of e NWR - 6 Months
Extension of e NWR Validity - 3 Months
Number of Extensions - 2x 3Months
Weight Tolerance - Loss or gain equivalent to 70% of the decrease or increase in the moisture content during storage