Sesame
Commodity Code -

11
Commodity Name -

Sesame seeds (Sesamum,Gingelly,Til)
Commodity Scientific Name -

Sesamum indicum Linn. Sya, Sesamum orientale Linn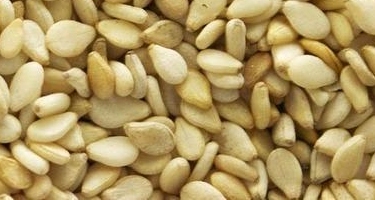 GT-4, RT-351, RT-346. B-67 (TILOTTAMA), GOWRI, GT-3, GUJARAT JUNAGARH TILL-5 (GJT-5), GUJARAT TIL – 10, HT-2, J.T-7 (KANCHAN TIL), JT-21, JT-55 (TKG-55), JTS-8, KALIKA (BM-3-7), KRISHNA, KRR-2, LTK-4, MADHAVI, MRUG-1, NIRMALA (OS-SEL-164), PATAN-64, PHULE TIL NO.1, PKV-NT-11, PRATAP TIL, RAJESHWARI, RS-1, RT-125, RT-127, SHEKHAR (SH-446), SURYA, SVPR-1 (TSS-6), SWETHA TIL, TC-25, TC-289, THILAK, THILARANI, TKG-308, UMA (OMT 11-6-3), VRI (SV) 2, VRISV-1, LLAMANCHILI-2
| | | | | | | |
| --- | --- | --- | --- | --- | --- | --- |
| Grade Designation | Foreign Matter per cent by weight (maximum) | Immature-shriveled and dead seeds, per cent by weight (maximum) | Damaged & Discoloured seeds per cent by weight (maximum) | Total impurities (total of col. 2 to 4) per cent by weight (maximum) | Admixture of other varieties/types per cent by weight (maximum) | Moisture content per cent by weight (maximum) |
| 1 | 2 | 3 | 4 | 5 | 6 | 7 |
| Special | 0.5 | 1 | nil | 1.5 | 5.0 | 5.0 |
| Good | 1.0 | 2.0 | 1.0 | 3.0 | 10.0 | 6.0 |
| General | 2.0 | 3.0 | 2.0 | 5.0 | 15.0 | 7.0 |
General Characteristics:-
The sesame seed shall be
The seeds obtained from the plant Sesamum indicum linn. Sya, Sesamum orientale Linn., Family Pedaliaceae

Free from fungus and insect attack, live insects, obnoxious smell, rodent contamination, excreta, non edible oilseeds, artificial colouration and all other impurities except to the extent specified.
Sesame shall be-
Clean, wholesome, reasonably uniform in size, shape and colour characteristic to the variety .
Free from obnoxious smell and fungus infestation.
Criteria for Range designation
S.no.
Tradable parameters
Range-1
Range-2
Range-3
A
Essential
i
Oil Content(% by wt) Min
45.0
40.0
35.0
ii
Moisture(% by wt) Max
5.0
6.0
7.0
iii
Foreign matter(% by wt) Max
1.0
1.5
2.0
iv
Damaged seeds (% by wt) Max
1.0
2.0
3.0
v
Admixture of other varieties (%by wt) Max
10.0
15.0
20.0
B
Optional (Industrial/Processors)
i
Total of Immature , shriveled, dead , damaged, discloured seeds by weight
Not more than 5 percent
Sampling
5 % or minimum one container shall be randomly selected for sampling.

250g shall be drawn from each selected container and shall be mixed homogenously, called as primary sample.

250g shall be drawn from primary sample called as Laboratory sample.
Definitions
Optional parameters are voluntary and may be analyzed as per buyer-seller agreement.
Foreign matter includes husk, straws, weed seeds, other inedible grains, metallic pieces, sand, gravel, dirt, pebbles, stones, lumps of earth, clay, mud and animal filth etc.

Damaged seeds are sprouted or internally damaged as a result of heat, microbe, moisture or weather and mechanical injury.

Admixture means the presence of a variety of the same seed other than the variety in consideration
Shelf Life - 12 Months
Initial Validity of e NWR - 6 Months
Extension of e NWR Validity - 3 Months
Number of Extensions - 2x 3Months
Weight Tolerance - Loss or gain equivalent to 70% of the decrease or increase in the moisture content during storage