Saffron
Commodity Code -

338
Commodity Name -

Saffron
Commodity Scientific Name -

Crocus sativus Linnaeus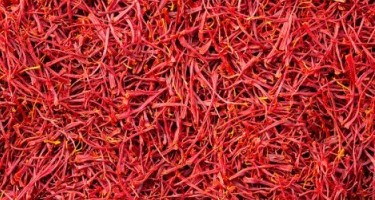 Kashmiri Saffron, Iranian Saffron, Spanish Saffron
Grade designation
Special Characteristics
Floral waste, per- cent by mass on dry basis (max.)
Extraneous matter, percent by mass on dry basis
Moisture and volatile matter percent by mass (max.)
Total ash percent by mass on dry basis (max.)
Acid insoluble ash percent by mass on dry basis (max.)
Solubility in cold water percent by mass on dry basis (max.)
Crude fibre percent by mass on dry basis (max.)
Bitterness expressed as direct reading of the absorbance of Picrocroine at 257
Safranal expressed as direct reading of the absorbance at 330 nm on dry
Colouring strength expressed as direct reading of the absorbance of Crocin at 440 nm on dry basis (min.)
Total nitrogen percent by mass on dry basis (max.)
Organic
Inorganic
1
2
3
4
5
6
7
8
9
10
11
12
Special
0.5
0.10
nil
10.0
6.0
1.00
65
5.0
70.0
20-50
200
2.00
Standard
4
0.40
0.10
11.0
7.0
1.25
65
6.0
55.0
20-50
170
2.00
General
6
0.75
0.25
12.0
8.0
1.50
65
6.0
40.0
20-50
120
2.00
Other Requirements
The condition of the Saffron shall be such so as to enable it to withstand transport and handling and to arrive in satisfactory condition at the place of destination;

Saffron shall be stored in cool and dry place; maintained in a clean and hygienic condition.
Explanations: For the purposes of this Schedule,-
"Extraneous matter" means,-

organic matter consists of leaf, stem, chaff and other vegetable matters

inorganic matter consists of sand, earth, dust, and other inorganic matter

"Floral waste" means yellow filaments, pollen, stamens, part of ovary and other parts of the flower of the plant Crocus sativus Linn.
General Characteristics
Saffron shall be

have the characteristic aroma, pleasant smell with slightly bitter and pungent flavour;

be free from any foreign taste or smell

be free from living insects, dead insects, insect fragments, mites, rodent contamination, mould growth

not contain any added colouring matter.

It shall comply with the restrictions in regard to the limits for metallic contaminants, crop contaminants, naturally occurring toxic substance, insecticides and pesticides residues, microbial requirements and other food safety requirements as specified under the Food Safety and Standards (Contaminants, Toxins and Residue) Regulation, 2011 and Food Safety and Standards (Food Products Standards and Food Additives) Regulation, 2011 for domestic trade.

It shall comply with the residual limits of heavy metals, pesticides and other food safety requirements as laid down by the Codex Alimentarius Commission, or importing countries requirement for exports.
Saffron shall be
Clean, of dark red colour, pleasant aroma characteristic to the variety

Free from obnoxious smell and fungus infestation.
S.no.
Tradable parameters
Range-1
Range-2
Range-3
A
Essential
i
Moisture(% by wt) Max
8.0
10.0
12.0
ii
Foreign matter(% by wt) Max
5.0
1.0
1.5
iii
Floral waste(% by wt) Max
7.0
8.0
10.0
B
Optional (Industrial/Processors)
i
Added color
Absent
ii
Total Ash on dry basis (% by wt) (Max.)
8
iii
Ash Insoluble in dilute HCl on dry basis (% by wt) (Max.)
Not more than 1.5%
iv
Solubility in cold water on dry wt. basis (% by wt)
Not less than 65%
v
Crude fibre on dry basis (% by wt)
Not more than 6%
vi
Total Nitrogen on dry basis
Not more than 2 %
vii
Coloring strength expressed as direct reading of absorbance of 440 nm of dry basis
Not less than 80 %
Sampling
5 % or minimum one container shall be randomly selected for sampling

1 g shall be drawn from each selected container and shall be mixed homogenously, called as primary sample.

1 g shall be drawn from primary sample called as Laboratory sample.
Definitions
"Foreign matter":-It includes husk, straws, weed seeds, other inedible grains, metallic pieces, sand, gravel, dirt, pebbles, stones, lumps of earth, clay, mud and animal filth etc.

Floral Waste:- Yellow filaments that are unattached and separated pollens, stamens, parts of ovaries and other parts of flowers of Crocus sativus Linnaeus.
Optional parameters are voluntary and may be analyzed as per buyer-seller agreement.
Total Shelf Life - 5 Months
Initial Validity of e NWR - 3 Months
Extension of e NWR Validity - 1 Month
Number of Extensions - 2*1 Months
Weight Tolerance - Loss or gain equivalent to 70% of the decrease or increase in the moisture content during storage