Paddy
Commodity Code -

2
Commodity Name -

Paddy(Dhan)
Commodity Scientific Name -

Oryza sativa L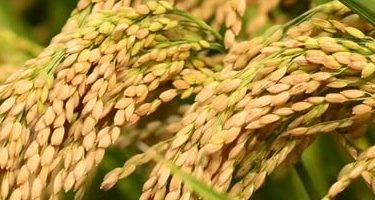 Abhishek, Athira, BPT-5204, Ciherang Sub-1 (Binadhan11), CSR-43, GR-13, HKR-127, IR-64, IR-64 DRT-1, Jaya, Jyothi, KNM-118, MTU-1001, MTU-1010, MTU-1064 (Amara), MTU-1075, MTU-7029, PB-1509, PR-114, PR-124, PR-126, Rajendra Sweta, Ranjeet, RNR-15048, RPBIO-226 (IMP.Samba Masuri), Sahbhagi Dhan (IET19576), SAMBA SUB1, SARJU-52, Sugandha-4 (P-1121), Swarna Sub1, Uma
| | | | | |
| --- | --- | --- | --- | --- |
| | AP I | AP II | AP III | AP IV |
| Grades | Foreign Matter (% By Wt.) | Admixture (% By Wt.) | Damaged, Immature, Weevilled (% By Wt.) | Moisture Content |
| I | 1 | 5 | 1 | 14 |
| II | 2 | 10 | 2 | 14 |
| III | 4 | 15 | 5 | 14 |
| IV | 7 | 30 | 10 | 14 |
General Characteristics:-
Be the dried mature grains (with husk) of Oryza sativa, L;

Have uniform size, shape and colour;

Be hard, clean, wholesome and free from moulds, weevils, obnoxious smell, discolouration, admixture of deleterious and all other impurities except to the extent indicated in the Schedule;

Be in sound merchantable condition; and

Not have moisture exceeding 14 percent
Paddy shall be-
Clean, wholesome, reasonably uniform in size, shape and colour characteristic to the variety .
Free from obnoxious smell and fungus infestation.
Criteria for Range Designation
S.no.
Tradable parameters
Range-1
Range-2
Range-3
A
Essential
i
Moisture(% by wt) Max
17.0
18.0
20.0
ii
Admixture (% by wt) Max
10.0
15.0
20.0
iii
Immature & Shriveled grains(% by wt) Max
3.0
5.0
7.0
iv
Foreign matter(% by wt) Max
2.0
4.0
6.0
v
Damaged/Discoloured grains & Weevilled Grains(% by wt) Max
4.0
6.0
8.0
B
Optional (Industrial/Processors)
i
Uric Acid
Not more than 100mg/kg
ii
Aflatoxin
Not more than 30 microgram/kg
Sampling
5 % or minimum one container shall be randomly selected for sampling.

500g shall be drawn from each selected container and shall be mixed homogenously, called as primary sample.

500g shall be drawn from primary sample called as Laboratory sample.
Definitions
Optional parameters are voluntary and may be analyzed as per buyer-seller agreement.
Foreign matter includes husk, straws, weed seeds, other inedible grains, metallic pieces, sand, gravel, dirt, pebbles, stones, lumps of earth, clay, mud and animal filth etc.

Other Edible Grains means any edible grains (including oil seeds) other than the one which is under consideration.

Damaged Grains means grains that are sprouted or internally damaged as a result of heat, microbe, moisture or weather and mechanical injured grains in case of whole pulses.

Weevilled grains means grains that are partially or wholly bored by insects injurious to grains but does not include germ eaten grains and egg spotted grains.

Admixture means the presence of a variety of the same grain other than the variety in consideration.

Immature & Shrivelled grains means kernels or pieces of grains that are not fully developed.
Assaying Parameters as per Uniform Specification notified by the Government of India for Kharif Marketing Season - 2020-21
S.no.
Refractions
Maximum Limits(%)
1
Foreign matter

a)Inorganic

b) Organic
1.0

1.0
2
Damaged, discoloured, sprouted and Weevilled grains
5.0*
3
Immature, Shrunken and shrivelled grains
3.0
4
Admixture of lower class
6.0
5
Moisture content
17.0
* Damaged, sprouted and Weevilled grains should not exceed 4%.
Important Note -: Details of Government notification No. 8-4/2020-S&I dated 29.09..2020 in this regard is as under, which needs to be scrupulously followed. These parameters will be applicable only for the stocks procured under Central pool during Kharif Marketing Season (KMS) 2020-21.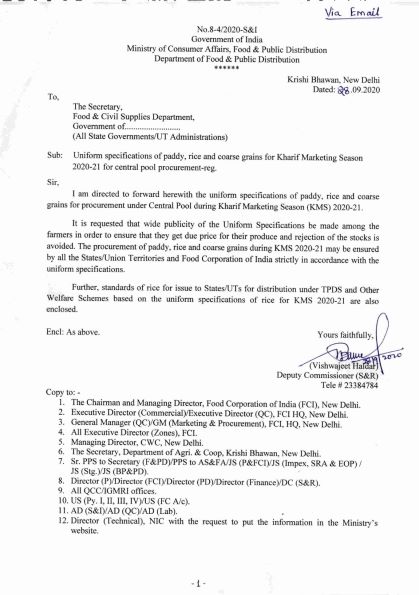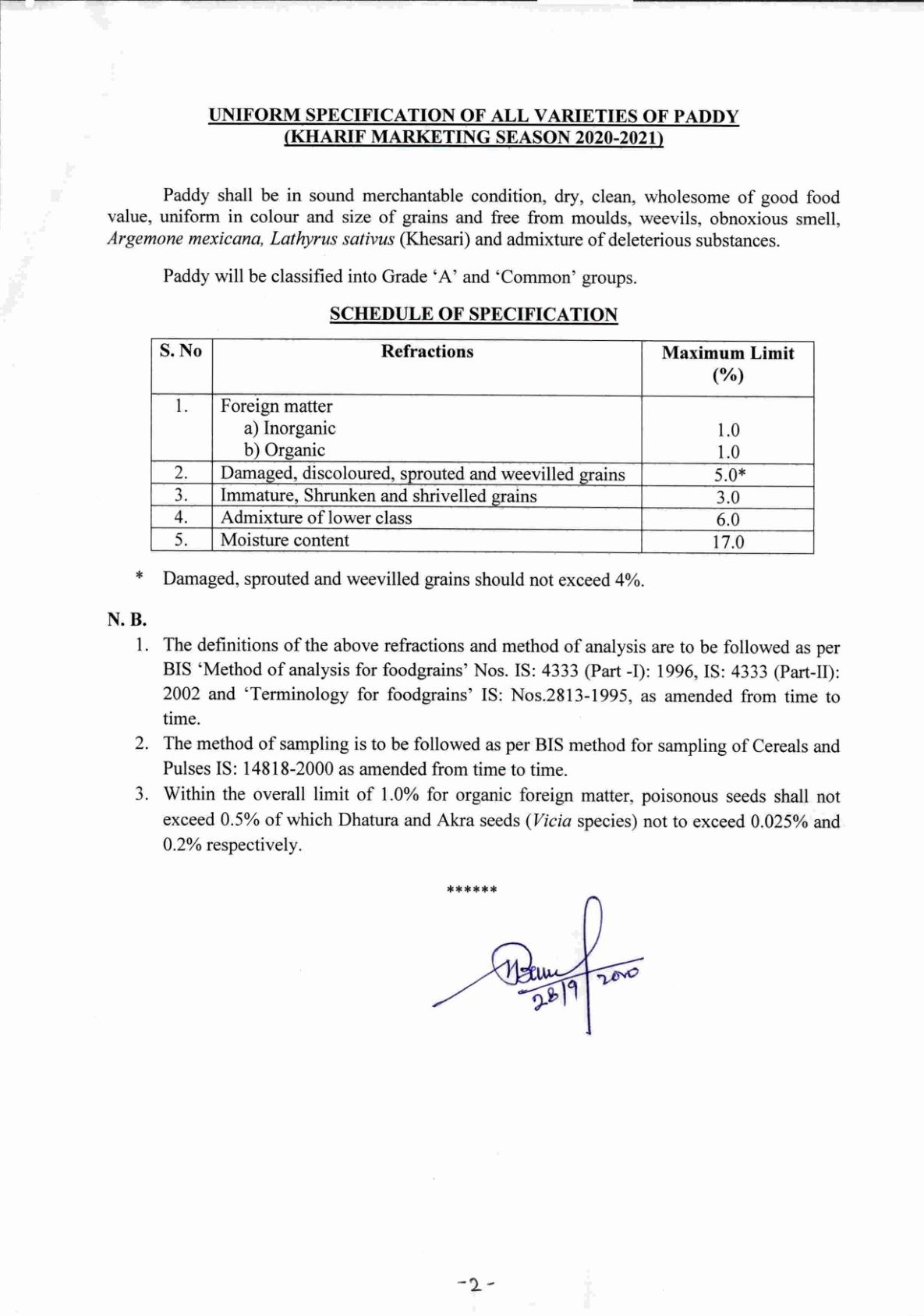 Shelf Life - 12 Months
Initial Validity of e NWR - 6 Months
Extension of e NWR Validity - 3 Months
Number of Extensions - 2x 3Months
Weight Tolerance - Loss or gain equivalent to 70% of the decrease or increase in the moisture content during storage