Niger Seeds
Commodity Code -

98
Commodity Name -

Niger Seed (Ramtil)
Commodity Scientific Name -

Guizotia abyesinica Cass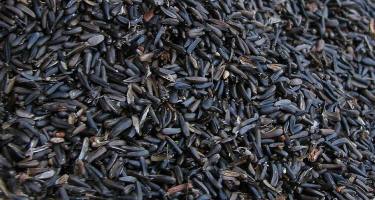 Gaudaguda Local, Ghoti No.2, Local, RCR-66, N-12-3, N-87, No.5, GA-10, GA-2, GA-5, Phulbani Local No.71(KRN-1), IGP-76, RCR-317, OOTACMUND, DEOMALI (GA-10), BIRSA NIGER-1, PAIYUR-1, JNC-6, Birsa Niger-2 9 BNS-9), Jawahar Safflower-97 (JSF-97), NRS-96-1, Phule Kusuma (JLSF-414), JNS-9, JSN-9, Jawahar Niger Composite-1, Parbhani Kusum (PBNS-12), Brisa Niger-1 (BNS-10), Phule Karala-1 (IGPN-2004-1), KBN-1, Birsa Niger-3 (BNS-11), Phule Karala(IGPN 2004-1), UTKAL NIGER-150 (ONS-150), DNS 4, JNS 30, GNNIG-3, JNS- 28
| | | | | | |
| --- | --- | --- | --- | --- | --- |
| | AP I | AP II | AP III | AP IV | AP V |
| Grades | Foreign matter percent by weight (maximum) | Immature Shrivelled and dead seeds, per cent by weight (maximum) | Damaged, discoloured and slightly damaged seeds by weight (maximum) | Total impurities (total of col. 2& 4) per cent by weight (maximum) | Moisture content per cent by weight (maximum) |
| 1 | 23 | 4 | 5 | 6 | 7 |
| special | 1.0 | 2.0 | 2.5 | 3.0 | 6.0 |
| good | 2.0 | 3.0 | 3.5 | 4 | 8 |
| general | 3.0 | 4.0 | 5.0 | 5.0 | 8.0 |
General Characteristics:-
Niger Seed shall be
Obtained from the plant Guizotia abyesinica Cass, family composite

Free from fungus and insect attack live insects, obnoxious smell, rodent contamination and excreta, coloring matter, non-eidble oil seeds and all other impurities except to the extent specified.
Niger Seed shall be
intact, firm clean, reasonably uniform size & shape, color characteristics to the variety

free from visible foreign matter, abnormal external moisture, foreign smell
S.no.
Tradable parameters
Range-1
Range-2
Range-3
A
Essential
i
Oil content (% by Weight) Min
30.0
25.0
20.0
ii
Moisture (% by Weight) Max
7.0
8.0
9.0
iii
Extraneous matter(% by Weight) Max
1.0
2.0
3.5
iv
Broken seeds (Damaged, shriveled, discoloured and immature seed) (% by Weight) Max
3.0
4.0
5.0
v
Insect damaged seed(% by Weight) Max
0.5
0.75
1.0
B
Optional (Industrial/Processors)
i
Total of Immature , shriveled, dead , damaged, discolored and slightly damaged seeds
Not more than 5 percent by weight
Sampling
5 % or minimum one container shall be randomly selected for sampling

250 gm whichever is applicable shall be drawn from each selected container and shall be mixed homogenously, called as primary sample.

250 gm shall be drawn from primary sample called as Laboratory sample
Definitions
Extraneous /Foreign matter:- Includes inorganic and organic matter. The inorganic matter shall include sand, gravel, dirt, pebbles, stones, glass and metallic pieces, lumps of earth, clay and mud. Organic matter shall include husk, chaff, straw, weed seeds and other inedible grains.

Broken seeds: -Kernels or pieces of kernels that are sprouted or internally damaged as a result of heat, moisture, weather or microbes, discoloured, and immature seed.

Insect damaged seeds: shall be those seeds which are wholly or partly bored or eaten by the weevils.
Optional parameters are voluntary and may be analyzed as per buyer-seller agreement.
Total Shelf Life - 12 Months
Initial Validity of e NWR - 6 Months
Extension of e NWR Validity - 3 Months
Number of Extensions - 2*3 Months
Weight Tolerance - Loss or gain equivalent to 70% of the decrease or increase in the moisture content during storage