Mahua
Commodity Code -

335
Commodity Name -

Mahua Seed
Commodity Scientific Name -

Madhuca longifolia, Madhuca latifolia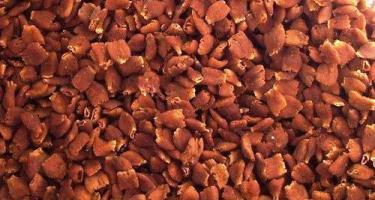 Madhuca longifolia, Madhuca latifolia
Mahua Seed shall be
Clean, wholesome, reasonably uniform in size, shape and colour characteristic to the variety;

Free from obnoxious smell and fungus infestation.
S.no.
Tradable parameters
Range-1
Range-2
Range-3
A
Essential
i
Oil Content(% by wt) Min
40.0
38.0
35.0
ii
Moisture(% by wt) Max
7.0
8.0
9.0
iii
Foreign matter(% by wt) Max
2.0
4.0
6.0
iv
Broken & damaged seed(% by wt) Max
10.0
15.0
20.0
B
Optional (Industrial/Processors)
i
Color
Reddish yellow
Dark brown
Sampling
5 % or minimum one container shall be randomly selected for sampling

250 gm whichever is applicable shall be drawn from each selected container and shall be mixed homogenously, called as primary sample.

250 gm shall be drawn from primary sample called as Laboratory sample
Definitions
"Foreign matter":-It includes husk, straws, weed seeds, other inedible grains, metallic pieces, sand, gravel, dirt, pebbles, stones, lumps of earth, clay, mud and animal filth etc.

"Broken:- shall include those seeds which are less than three-fourth but more than one-fourth of a whole seed.

"Damaged Seed" means grains that are damaged as a result of heat, microbe, moisture or weather and mechanical injury.
Optional parameters are voluntary and may be analyzed as per buyer-seller agreement.
Total Shelf Life - 12 Months
Initial Validity of e NWR - 6 Months
Extension of e NWR Validity - 3 Months
Number of Extensions - 2*3 Months
Weight Tolerance - Loss or gain equivalent to 70% of the decrease or increase in the moisture content during storage