Coriander-seeds
Commodity Code -

108
Commodity Name -

Coriander seeds /Coriander Dry
Commodity Scientific Name -

Coriandrum sativum L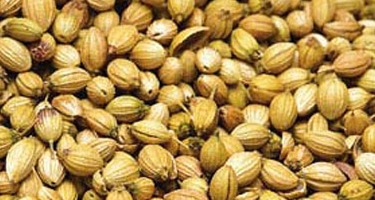 HYB. S. B, SUGANDHA, PH, CS-4, RCR-728, RCR-436, CS-6, DIVYA, GARIMA SUPER, HARITA, HISAR SUGANDH (DH-36), HYB-VNR RANI, NUZI MAHAK, RUCHI, SADABAHAR, SUGANDHA-1 & 2, SUPER-9, SURABHI, SURUCHI, SWATI, VICTORIA
| | | | | | | | | | |
| --- | --- | --- | --- | --- | --- | --- | --- | --- | --- |
| | AP I | AP II | AP III | AP IV | AP V | AP VI | AP VII | AP VIII | AP IX |
| Grades | Organic Extraneous Matter Percent By Mass (Max) | Inorganic Extraneous Matter Percent By Mass (Max) | Split Fruits (Max) | Damaged Discoloured, And Shriveled Fruits(Maximum) | Moisture (Max) | Total Ash On Dry Basis (Max) | Ash Insoluble In Dil.Hcl,On Dry Basis (Maximum) | Volatile Oil Ml/100 Gms (Min) | Insect Damaged Matter *(Maximum) |
| Special | 0.25 | 0.1 | 4 | 1 | 8 | 6 | 1 | 0.2 | 0.1 |
| Standard | 0.75 | 0.2 | 10 | 2 | 9 | 7 | 1.5 | 0.1 | 1.5 |
General Characteristics:-
Coriander (Whole) shall be dried mature fruits (Seeds) of Coriandrum sativum L of the family Umbelliferae
It shall have all characteristic aroma and flavour of the Coriander

It shall be free from mustiness, rancidity

It shall be free from mould growth , insect infestation ,living and dead insects, insect fragments and rodent contamination

It shall be free from foreign colouring matter and any other harmful substances

It shall comply with restrictions in regard to Aflatoxins, Heavy Metals, Insecticide or Pesticide residue, naturally occurring toxic substances, Microbial load or other food safety requirements as specified in the Food Safety and Standards (Contaminants, Toxins and Residues) Regulations, 2011 and the Food Safety and Standards (Food Products Standards and Food Additives) Regulations, 2011 or any other Regulation notified under the Food Safety and Standards Act, 2006 for domestic trade.

It shall comply with restrictions in regard to Aflatoxins, Heavy Metals, Insecticide or Pesticide residue, naturally occurring toxic substances, Microbial load or other food safety requirements as specified by the Codex Alimentarious Commission or importing Countries requirements for exports
Coriander( Whole)seeds shall
Clean, wholesome, reasonably uniform in size, shape and colour characteristic to the variety

Free from obnoxious smell and fungus infestation.
Criteria for Range designation
S.no.
Tradable parameters
Range-1
Range-2
Range-3
A
Essential
i
Visible Color
Green
Light Brown
Brown
ii
Moisture(% by weight)Max
8.0
9.0
11.0
iii
Foreign matter(% by weight)Max
1.0
2.0
3.0
iv
Damaged /Coriander Split seeds(% by weight) Max
8.0
12.0
15.0
B
Optional (Industrial/Processors)
i
Total Ash%(m/m)
Not more than 7.0
ii
Acid insoluble ash%(m/m)
Not more than 1.5
iii
Volatile oil%(ml/100 gm)
Not less than 0.1
Sampling
5 % or minimum one container shall be randomly selected for sampling.

250 gm shall be drawn from each selected container and shall be mixed homogenously, called as primary sample.

250 gm shall be drawn from primary sample called as Laboratory sample.
Definitions
Foreign matter includes husk, straws, weed seeds, other inedible grains, metallic pieces, sand, gravel, dirt, pebbles, stones, lumps of earth, clay, mud and animal filth etc.

Damaged/Discoloured seeds are sprouted or internally damaged as a result of heat, microbe, moisture or weather and mechanical injury.

Coriander Split is pieces of seeds that are one fourth or less than the full size of the whole seed.
Optional parameters are voluntary and may be analyzed as per buyer-seller agreement.
Shelf Life - 12 Months
Initial Validity of e NWR - 6 Months
Extension of e NWR Validity - 3 Months
Number of Extensions - 2x3Months
Weight Tolerance - Loss or gain equivalent to 70% of the decrease or increase in the moisture content during storage