Clove
Commodity Code - 105
Commodity Name -

Clove
Commodity Scientific Name -
Syzygium aromaticum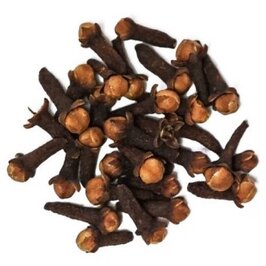 (a) have pleasant taste, flavour and uniform color;
Grade Designation

Quality

Special Characteristics (per cent. by mass )

Organic Extraneous Matter Percent By Mass (Max)

Inorganic Extraneous Matter Percent By Mass ( Max)

Tendrils, Mother Cloves (Maximum)

Khoker Cloves Percent By Mass (Max)

Moisture Percent By Mass ( Max)

Volatile oil content on dry basis ml/100gm (Min.)

Headless Cloves (Maximum)

Insect damaged Cloves (Maximum)

(1)

(2)

(3)

(4)

(5)

(6)

(7)

(8)

(9)

Special

0.50

0.05

1.0

1.0

9.0

18.0

1.0

Nil

Standard

0.75

0.10

1.5

1.5

10.0

17.5

1.5

1.0

General

0.75

0.25

2.0

2.0

11.0

17.0

2.0

2.0
Note: Volatile Oil shall be determined immediately after grinding.
General charectristics -
1) Cloves Whole (Laung) means the dried unopened flower buds of clove tree, Syzygium aromaticum (L.) Merril et L. M. perry syn. [Eugenia caryophyllus (C.Sprengel)] Bullock and Harrision.
(2) It shall -
(a) be of reddish brown to blackish brown color;
(b) have a strong aromatic, spicy odor and characteristic flavor;
(c) be free from off-flavor, rancid taste, mustiness, mould growth, living and dead insects, insect fragment, insect infestation and rodent contamination.
(d) be free from added coloring matter and coating of mineral oil and any other harmful substances .
(3) It shall comply with the restrictions in regard to residual levels of metal contaminants, insecticides and pesticides residues, microbial requirements, crop contaminants, naturally occurring toxic substances and other food safety requirements as specified under the Food Safety and Standards (Contaminants, Toxins and Residues) Regulations, 2011 and Food Safety and Standards (Food Product Standards and Food Additives) Regulations, 2011 and various regulations covered under Food Safety & Standards Act2006 (34 of 2006) for domestic trade.
(4) It shall comply with the residual limits of heavy metals, pesticides and other food safety requirements as laid down by the Codex Alimentarius Commission, or importing countries requirement for exports.
(5) The condition of the Cloves whole shall be such so as to enable it - (a) to withstand transport and handling; and (b) to arrive in satisfactory condition at the place of destination.
(6) It shall be stored in a cool and dry place; maintained in a clean and hygienic condition.
Shelf Life - 18 Months
Initial Validity of e NWR - 12 Months
Extension of e NWR Validity - 2X3 month
Number of Extensions - 2